History of Quebrada Baking Co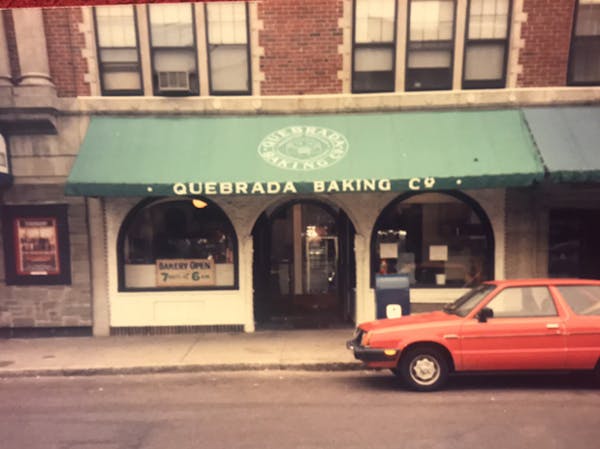 How did Quebrada Baking Company come to be?
In 1976, Kay Wiggin moved to Boston with aspirations of becoming an independent filmmaker. However, she soon pivoted from filmmaker to baker when she was hired at Rosie's Bakery, owned by Judy Rosenberg, in Harvard Square. Although she never received a formal culinary education, Kay had plenty of experience with baking -- she grew up in a German baking family, and had learned much of her skills from her mother, who was a talented baker. For this reason, she was tasked with developing an organic, sugar-free whole grain product line at Rosie's Bakery. Eventually, given the high demand for such products, Judy encouraged Kay to break off on her own, and in April 1977 Quebrada Baking Company in Arlington was born.
Quebrada Baking Co was able to thrive because of the entrepreneurial-friendly environment so prevalent in the Boston area at that time. Kay knew that bakeries, unlike restaurants, have longevity, and the work would be difficult yet incredibly gratifying. Through her work at Rosie's Bakery, Kay had established plenty of relationships with suppliers for raw materials and equipment. She got her start as a strictly wholesale bakery specializing in whole grain breads and muffins, and serviced all of the early natural food stores in the area. Over 80% of Quebrada's products were sold out of Wellesley's Bread & Circus -- and as they quickly grew, Quebrada grew, too!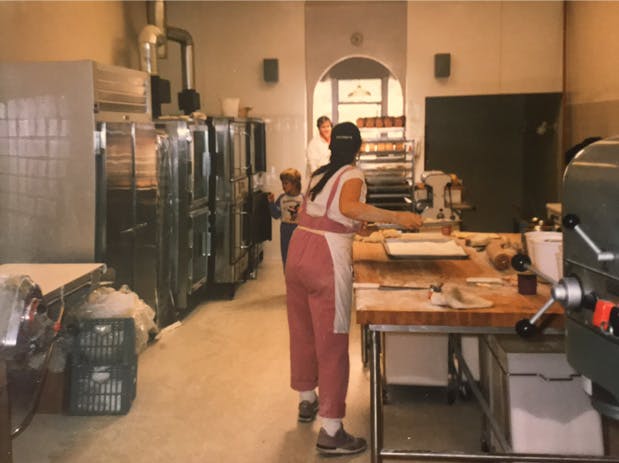 The Key to Success
Kay's baseline rule when starting her business was to make it an honest business. She achieved this by providing a fair living wage ahead of the competition and a positive working environment, which she believes fostered loyalty and longevity. As a direct result of Kay's values Quebrada Baking Co has always employed the best, most passionate bakers and front of house staff. In fact, only recently have two employees retired after almost 40 years of service, and plenty of Quebrada's employees have been with the bakery for more than two decades! Over the years, everyone in the bakery space in the Boston area wanted to experiment with recipes and be a part of Quebrada; as Kay states, "I didn't do it. WE did it."
Quebrada Baking Co Opens its 2nd and 3rd Locations
In 1984, Kay and her husband saw the perfect opportunity to open a second location and also reinvent Quebrada's business strategy. They renovated a beauty parlor in Wellesley, and pursued retail only at this location. Within six months of opening the Wellesley location, the new strategy proved successful and wholesale was completely eliminated and retroed at the Arlington location. Croissants and products using white sugar and white flour were introduced at this time, which resulted in Quebrada becoming the croissant-coffee bakery that they are today!
Fun fact: A major player in our success was the "coffee craze" that first began in the late 70s. Coffee was a critical part of the business even during the wholesale years, when the working public would stop by for a quality 8 o'clock coffee!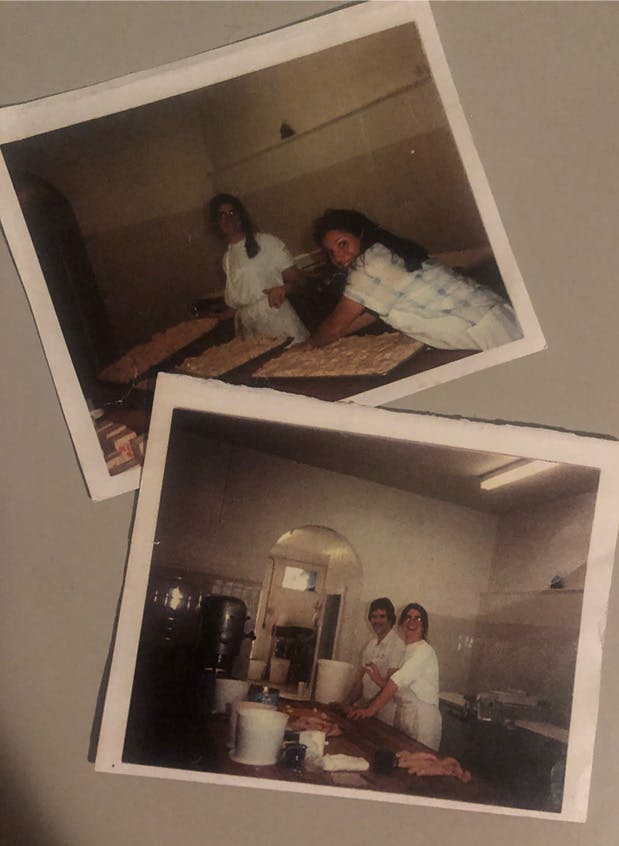 Where did the name come from?
Prior to settling down in the Boston area, Kay and her husband spent some time traveling around Central and South America. If you saw a sign that said "Quebrada" with an arrow, it's almost like seeing a sign in New Hampshire that reads "Scenic Vista". "Quebrada" comes from the Spanish word "quebrar" meaning "to break" -- a break in the terrain means there is a scenic venue up ahead. In essence, "Quebrada" means there is something spectacular about the spot and it's a great place to be!
Kay's Favorite
Although Kay has a great appreciation for her famous 100% whole wheat muffins (sweetened only with maple syrup and honey!) -- they've been with Quebrada since day 1 and gave her entry into the wholesale market -- her own personal favorite baked goods are snickerdoodle cookies! Snickerdoodles are a cinnamon and sugar Swedish cookie, and hold a special place in her heart. As a child, her family would make them around Christmas time. The Quebrada recipe actually comes from her Swedish neighbor, Ms. Olsen. In fact, many of Quebrada's recipes come from her mother, mother's friends and various employees (the famous vegan chocolate cake was her mother's recipe!).
Quebrada Baking Co Today
Kay has since retired and the neighborhood bakery continues to be a family-run affair after being taken over by her children, Emilie and Schuyler Wiggin. Everything continues to be baked in-house with high quality, locally sourced ingredients. And Kay regularly visits with her grandchildren for a snickerdoodle cookie or two!